Don't let the special machinery in your industrial space affect air quality.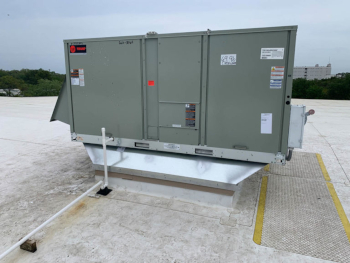 If you have a commercial or industrial building that houses different types of machinery, equipment, or other moving parts, you know there can be a lot of exhaust or other byproducts that come from using this machinery. These byproducts can negatively affect the air quality in your industrial space, which can make a space more hazardous to work in.
There are many legal regulations in place to control the negative effects of these byproducts, with specific standards and guidelines to follow to make sure the indoor air quality within your commercial or industrial space is at a safe level. One effective tool to help control your indoor air quality is the use of make-up air units.
Make-up air units work to offset the hazardous air that is produced from heavy equipment or machinery. They provide a form of ventilation that addresses both indoor and outdoor air. Indoor air quality regulations and guidelines require several different types of specifications to be deemed safe, including factors such as pressurization and the comfort level of working temperatures, which are all influenced by this indoor and outdoor air. Make-up air units help with these guidelines by pulling the fresh air in from outside to replace the indoor air that can cause problems.
If your Clearwater, Florida make-up air unit is having difficulties and requires maintenance or repair, call us here at Reliant Heating and Air Conditioning. We have years of experience helping people with their HVAC systems and are ready to help you meet those indoor air quality regulations by helping your commercial and industrial spaces properly ventilated.
---
At Reliant Heating and Air Conditioning, we service make-up air units in Clearwater, St. Petersburg, Tampa, Brandon, Land O' Lakes, Shady Hills, Dade City, and Sarasota, Florida.